Bucked Up® Launches Mother Bucker Only at GNC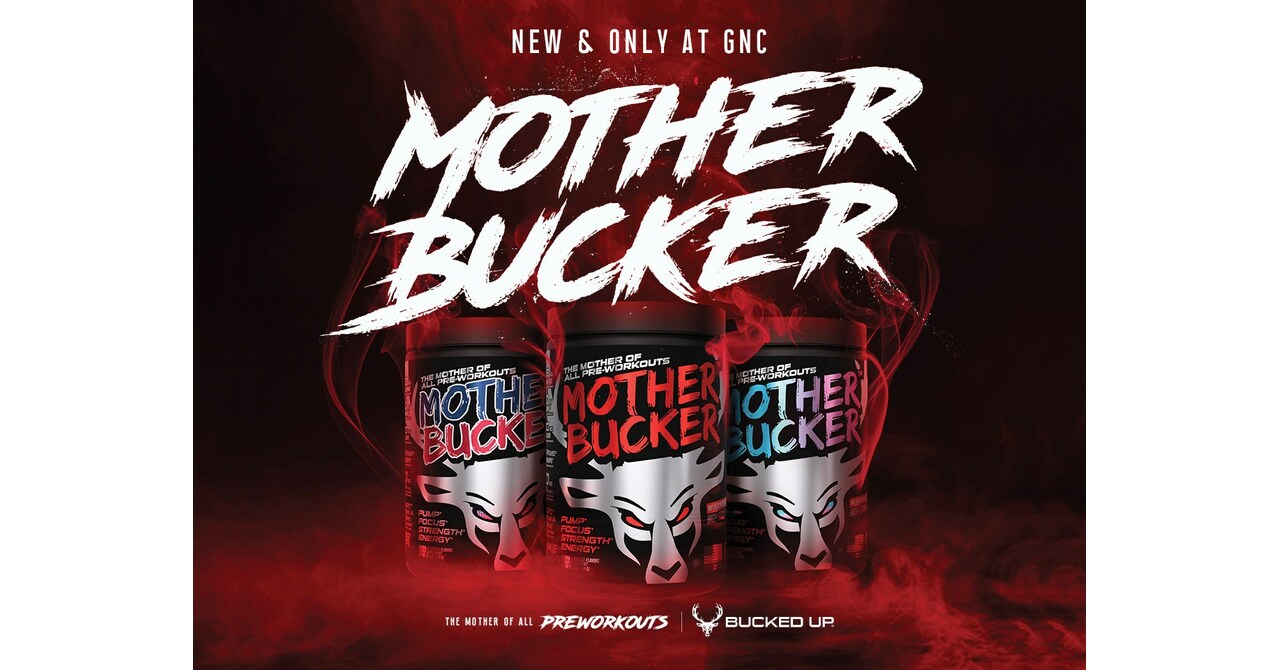 The new formulation is the strongest Bucked Up® pre-workout yet, featuring 400mg of caffeine
PITTSBURGH, May 19, 2023 /PRNewswire/ — Bucked Up is bringing the power with a brand new formulation, its most extreme yet: Mother Bucker. On the heels of launching the innovative Bucked Up® and Woke AF® Spiced Apple pre-workout (which can be used with hot or cold water), and the Bucked Up® and Woke AF™ GOLD which kicked off a national treasure hunt, the brand is back with the mother of all pre-workouts. Mother Bucker will keep consumers amped throughout the toughest workouts with 400mg of caffeine, plus pump, focus, strength, and energy benefits. Available exclusively at GNC, Mother Bucker comes in three flavors: Rocket Pop, Miami and Gym-Junkie Juice.
"Being able to launch Bucked Up® Mother Bucker exclusively at GNC is a huge win for our consumers," said Kevin Maloberti, VP, Merchandising, GNC. "Mother Bucker is not just setting the bar for pre-workouts … they're crushing it. We're excited to bring this powerful pre-workout to our most intense and committed athletes to give them unmatched strength and energy to power through intense workouts." 
With this launch, GNC is continuing to build out its performance category with top-notch products that fuel results and deliver on consumer needs.
"Our partnership with GNC is really important and their commitment to consumers is a big part of why we decided to exclusively launch Mother Bucker there," said Ryan Gardner, Owner, Managing Partner, CEO, Bucked Up®. "This pre-workout isn't your average – it's comprised of an incredible formulation designed specifically to build strength, endurance, and crush goals. We're pumped for GNC consumers' feedback and reaction as we introduce this to the market."
GNC now offers more than 65 products from Bucked Up® across categories like pre-workout, protein and other performance solutions. 
To learn more about GNC, please visit www.gnc.com.
About GNC
GNC is a leading global health and wellness brand that provides high-quality, science-based products and solutions consumers need to live mighty, live fit, and Live Well.
The brand touches consumers worldwide by providing its products and services through company-owned retail locations, domestic and international franchise locations, digital commerce and strong wholesale and retail partnerships across the globe. GNC's diversified, multi-channel business model has worldwide reach and a well-recognized, trusted brand. By combining exceptional innovation, product development capabilities and an extensive global distribution network, GNC manages a best-in-class product portfolio. www.gnc.com.
| | |
| --- | --- |
| Media Contacts:                                                          | |
| Meredith Klein                                                                | Allison+Partners                        |
| GNC                                                                              | Allison+Partners Public Relations  |
| Director, Public Relations                                              | General Inquiries                        |
| [email protected]                                          | [email protected]  |
SOURCE GNC Holdings