Between body shaming and dysmorphophobia, the cult of thinness still king on social networks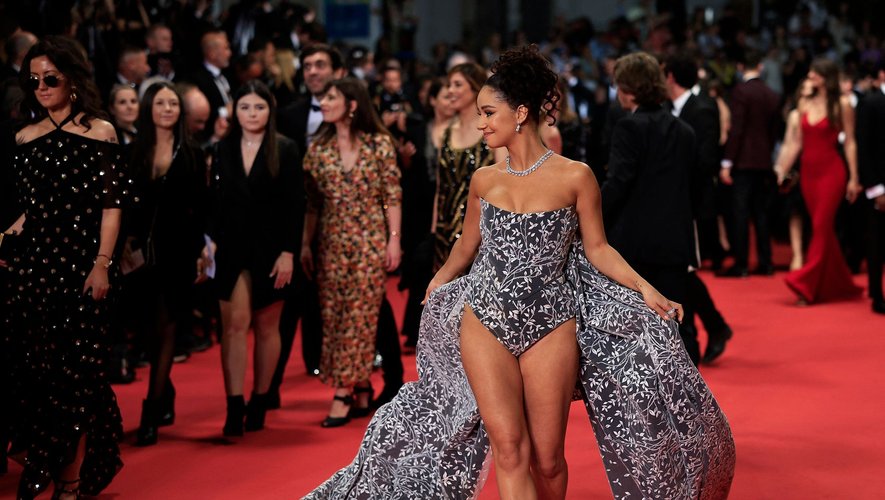 (ETX Daily Up) – A real wave. Léna Mahfouf, better known as Lena Situations, was the victim of body shaming on Monday after climbing the famous steps of the Palais des Festivals in Cannes, in a sumptuous Vivienne Westwood dress. In question ? Her thighs, which obviously did not suit the expectations of some Internet users. A situation which is in no way isolated, and which proves that we are far from having finished with the famous cult of beauty.
The advances in terms of inclusion and positivism have been undeniable for more than five years, and yet… We are still far from having shattered all the injunctions, dictates, and other stereotypes surrounding beauty, and in particular beauty. diversity of bodies. This is what we can currently observe at the Cannes Film Festival, where several public figures have suffered the full brunt of the pangs of mockery, criticism, and other outpourings of hatred on their physique. After Anna Biolay, mocked and insulted for her physique, as well as for her success which, according to some, is only due to her parentage, it was Lena Situations who paid the price for a good dose of body shaming – and even more of a certain distortion between the image sent back by social networks and reality.
"You eat well in the canteen"
Invited to the Cannes Film Festival, Lena Situations made a very remarkable appearance in front of the Palais des Festivals in a dress from the archives of Vivienne Westwood, and initially worn by Naomi Campbell. A consecration that the young woman did not fail to immortalize on her Instagram account, aimed at her 4 million subscribers. "I'm so proud to wear this archival piece on the red carpet, and this time I feel good", published in story the French influencer. A message that precedes those – more malicious – received for him after the publication of the first photos. "With her legs, she shouldn't put on this kind of outfit", "too big thighs, too bad", "she got fat", or even "with her cowardly body, yuck", can we read among the many critics wiped by the young woman of 25 years.
Lena Situations, who did not hesitate to denounce this surge of hatred with regard to her physique, also published a message to testify to her feelings about the situation. "I've always been more or less comfortable with my body… Until the last few months. I've gained weight, I'm aware of it, my body has changed, I'm aware of it, but the internet realized it before me, and would like to share it.(…) Ever since we were young, we have been projected an ideal body, an ideal style, so much that as soon as I no longer fit into my 36 I receive 'you eat well in the canteen" or "congratulations on the baby". Whether it's criticism or the testimony of the influencer, we see through this controversy that body shaming is far from receding, despite many advances, and that social networks, if they have made it possible to highlight the body positive movement, keep alive the cult of thinness, and even worse, if we consider that the size 38 evoked indirectly by Lena Situations is well below the 'standards' observed in France.
40 and 42, the average sizes in France
Beyond body shaming, in other words the fact of humiliating someone because of their physique, whatever it may be, this situation shows how hard beauty standards are on social networks, and without doubts even more to what extent the general public can have a truncated view of reality. The proof, the average size of French women is well above that mentioned by Lena Situations, considered "big" by some Internet users. According to the latest national measurement campaign organized by the French Institute of Textiles and Clothing (IFTH), it is indeed sizes 40 and 42 that are considered the average in France. In detail, more than 20% of the female population is 40, nearly 17% is 42, more than 13.5% is 44, and 13.32% is 38. Proof that social network users have a vision totally distorted from what they call themselves beauty standards… Something potentially linked to the increased use of filters and retouching applications on social networks.
This is one of the explanations given by the Minister of the Economy, Bruno Le Maire, on Instagram, when he showed his support for Lena Situations. "The use of filters and retouching gives us a distorted image of reality and can have devastating effects on self-esteem. Let's accept ourselves as we are," he posted in Story. And to add: "With the law on commercial influence, influencers and content creators will now have to indicate when their publication is the subject of an alteration aimed at refining or thickening their silhouette". And that's not all since the law in question will also prohibit the promotion of cosmetic surgery, another way to allow the younger generations to accept themselves and not let themselves be influenced by – predefined – canons of beauty.
Beyond the body shaming suffered by many public figures, from Lena Situations to Kim Kardashian via Amel Bent or Selena Gomez, this dysmorphophobia generated by filters and other editing applications, but also by the promotion of certain aesthetic acts and more broadly through the promotion of thinness, also has an impact on the mental health of the youngest. This has been shown by several scientific studies in recent weeks, testifying to the weight of social networks on the well-being of adolescents, but also to the positive attitude observed in these same young people when they move away from these platforms. , or the concern of parents about their harmfulness to their children.